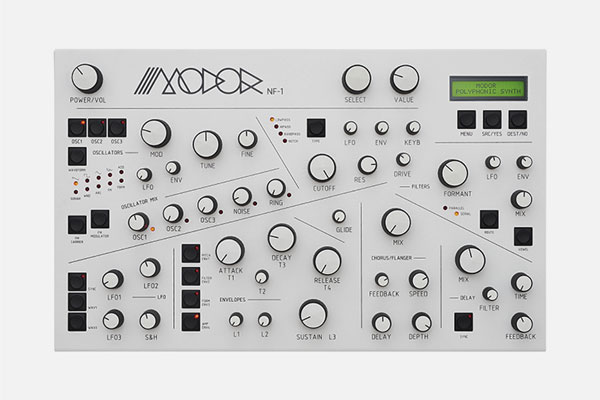 In Stock at Warehouse
This item is available at our warehouse. It will shipped in the next 3-7 working days.
Price match guarantee. If you find a cheaper price, we'll match it. Write us
The NF-1 is a digital, polyphonic hardware synthesizer. Despite its classic structure, this white beast is far more versatile than a virtual analog instrument, as each synthesis section offers some rather unusual features.
The NF-1 is an eight-voice polyphonic digital synthesizer. Thanks to its thought-out synthesis system, this instrument delivers rich sounds ranging from classic to experimental.
Besides standard waveforms, the oscillators offer additive and FM synthesis algorithms, filtered noise and a chip tune generator. For processing audio material, there's not only a -12 dB multimode filter, but a Formant filter with morphing function as well.
Great for producing vocal sounds. The effects section includes a delay and a flanger/chorus. The modulation department is very flexible, thanks to a routing matrix. Subjectively speaking, the biggest highlights are grainy pads, noisy atmospheres, choir sounds, shimmering leads and retro drums.
Features
8 voices
Poly, Mono and Mono-legato modes
448 patches, 14 banks [A-N] of 32 patches
9V, 600mA adapter connection, positive voltage on center pin
MIDI IN/THRU/OUT connections, 3x 5-pin DIN connection
Audio Left/Stereo output, for 6.35mm TRS or mono jack, unbalanced, capable of driving headphones
Audio Right output, 6.35mm mono jack, unbalanced
Sustain switch, 6.35mm mono jack
Volume/modulation pedal, 6.35mm TRS jack
USB connector (MIDI only)