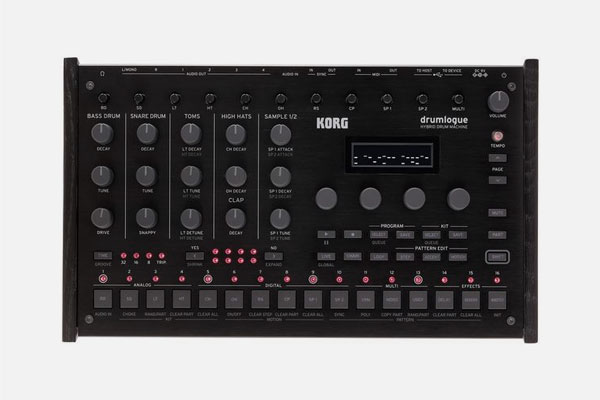 In Stock at Warehouse
This item is available at our warehouse. It will shipped in the next 3-7 working days.
Price match guarantee. If you find a cheaper price, we'll match it. Write us
The introduction of Drumlogue marks a paradigm shift for drum machines. It combines the rich and raw power of analogue, the flexibility and convenience of digital, and the deep customisation of a unique SDK.
A heavy-duty dynamic sequencer, powerful effects, and intuitive controls make Drumlogue a must-have in any setup.
Features
Combines analogue, digital and sample-based sound generation
4 Analogue parts (kick, snare, hi tom, lo tom)
6 Sample-based parts (max. 256 samples can be loaded, 128 installed ex works)
Multi-engine part with VPM synthesis
Noise generator and 24 slots for custom synthesizer ("Nano" by Sinevibes pre-installed)
15 Knobs for direct access to parameters
Volume control for all 11 parts
Sequencer with max. 64 steps
Pattern chaining
Motion, accent and random functions
Memory for 128 programmes, patterns and drum kits
3 Effect blocks: Reverb, Delay and Master
OLED display and 4 encoders
Stereo output and 4 assignable individual outputs (6.3 mm jack)
Stereo headphone output (6.3 mm jack)
Audio input for external signals (3.5 mm jack)
MIDI in/out
Sync input and output (3.5 mm jack)
USB-A port for external MIDI controllers
USB-B port for computer connection
Aluminium control panel and wooden side panels
Dimensions (W x D x H): 317 x 189 x 73 mm
Weight: 1.4 kg
Videos