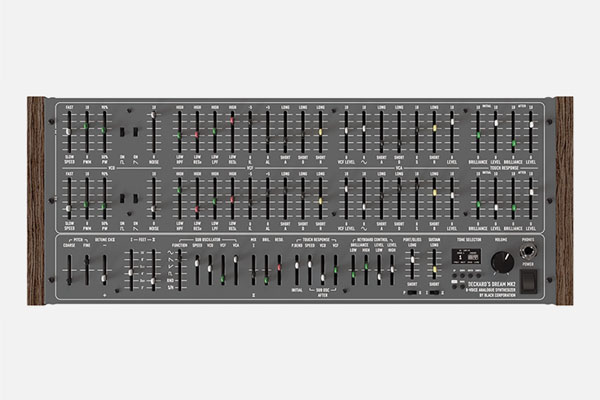 On Request
This item is on request and it is usually available in 10-15 working days. Send us an email to get an accurate extimate of delivery time.
Price match guarantee. If you find a cheaper price, we'll match it. Write us
Deckard's Dream MkII is an eight-voice polyphonic analog synthesizer in desktop format. It is inspired by a certain cinematic sound from the late 1970s and early 1980s. The synth features a fully analog signal path with two independent layers per voice. Discrete waveshapers help to reproduce the oddities of the original waveforms, especially the sawtooth glitch, which is a big part of the CS-80 sound. An autotune function assures that all 16 VCOs are tracking perfectly.
It even offers detune and microtuning settings for a more vintage feel. With the addition of MIDI implementation, the ability to store 128 presets per bank across 3 banks (which can be managed on the integrated OLED display) and an upcoming software editor provided by Spektro Audio, this vintage inspired poly synth is at home in any modern studio.
For each layer, the synth offers a VCO with square, saw and sine waveforms, discrete 12 dB HP and LP filters with separate resonance controls, an ADSR for the filter with adjustable initial and attack levels, and an ADSR dedicated to the VCA. The synth also provides velocity and aftertouch controls for filter brilliance and volume levels.
Furthermore, polyphonic aftertouch gives Deckard's Dream expression that has only been possible on a very small number of synthesizers. MPE technology (using controllers by ROLI, LinnStrument, Haken) takes this even further with the addition of polyphonic pitch bend.
The Deckard's Dream MkII delivers everything the previous version did, in a new thin and light tabletop format with woodsides or rack-ears (both included). It also brings additional controls over Sustain modes and timing.
The synth is build in Japan, Tokyo, using only high quality electronic components.
Features
Modern replica of the legendary CS-80 synthesizer
Analogue signal path
2 Layers per voice
VCO with sine, sawtooth and pulse waveforms
Pulse width modulation
Noise generator
Discretely constructed high-pass and low-pass filters with resonance (-12 dB / oct.)
ADSR envelope for VCF and VCA
LFO with 5 waveforms for modulating VCO, VCF and VCA
Processes polyphonic aftertouch
MPE support
256 Preset memory locations
OLED display
USB port
MIDI In / Out / Thru
Audio output: 6.3 mm jack
Format: 19"/ 4 U
Dimensions: 483 x 178 mm
Includes external power supply and rack bracket