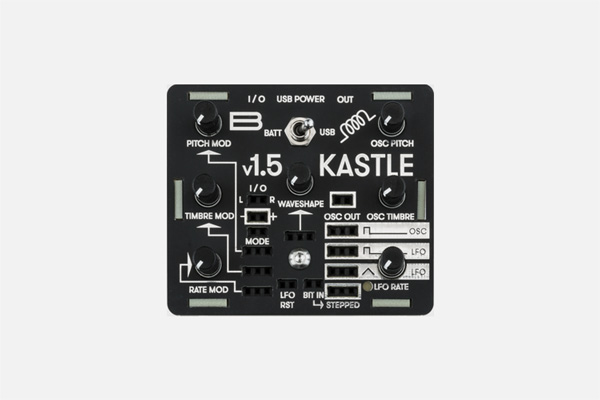 In Store
This item is available at our store. Ready for shipment.
Price match guarantee. If you find a cheaper price, we'll match it. Write us
Kastle is a mini modular synthesizer. It is DIY friendly and ideal for beginners in modular synthesis, but it will add some quite unique functionality to any modular synthesizer system.
It delivers the fun of modular synthesis at a low cost and fits into your pocket so you can play it everywhere! The oscillator section has 3 sound parameters: PITCH, TIMBRE and WAVESHAPE – all under voltage control and with 6 different synthesis modes. It has a main output and a secondary waveform output. Both can be used independently or in combination.
Features
Complex oscillator
3 synthesis modes on the main output: phase modulation, noise mode, track & hold modulation
3 more modes on the secondary OSC output: phase distortion, tonal noise mode, formant synthesis
PITCH control with offset and CV input with attenuator
TIMBRE control with offset and CV input with attenuator
WAVESHAPE control with offset and CV input
Stepped voltage generator with random, 8 step and 16 step loop mode
3x AA battery operation or USB power selectable by a switch
dimensions: 70 x 60 x 50 mm
Included in the box: 10 patch cables, user manual, sticker