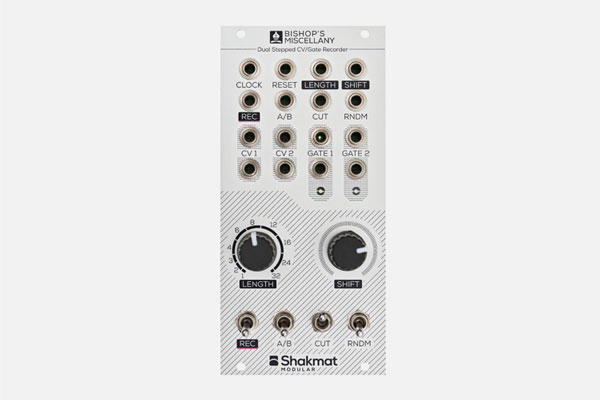 In Store
This item is available at our store. Ready for shipment.
Price match guarantee. If you find a cheaper price, we'll match it. Write us
This item is used. Everything is in perfect working order. It comes with original box. View more pictures.
The Bishop's Miscellany is a dual stepped CV-Gate Recorder.
Features
Dual Stepped CV / Gate Recorder
Variable length sequences (up to 32 steps)
Shift parameter scanning differents segments in your original sequence.
AB switch allowing to record two different 32 steps sequences.
Random value generator very handly to create random loops or to play sequences randomly
Cut funtion hacking the gate out 1 for more dynamic phrases
CV inputs for Length and Shift functions • Gate inputs for all the switch functions (Record, AB, Cut and Random)
User replaceable firmware chip
High quality metal potentiometer with double rubber injected knobs
Size: 12HP
Depth: 22mm
Power: 25mA @ +12V / 0mA @ -12v